Sarah Jane Cion at the Watercolor Café, Larchmont, NYC, 2007-10-06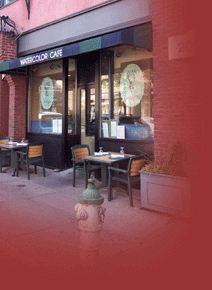 Some pictures of a splendid jig in a small and cozy cafe, with the Lyn Christie Trio featuring Sarah Jane Cion-Piano Russ Meissner-Drums and Lyn Christie-Bass
A continuing succession of excellent jazz music, with Sarah Jane and her friends pouring out excellent lines and doing a little of everything from bop to swing to boogie-woogie and even an excursion on latin music!
Check Sarah's site on http://sarahjanecion.com for more on this excellent pianist music!
And I have to say, local food is not too expensive and is of a quality appealing to a demanding Portuguese like me... come on, we don't eat just anything!...