Trains
A FIXED BASEBOARD LAYOUT INSTALLED IN ITS OWN ROOM
Upon designing of my house I decided that I would have a room for my HO train layout. The room is roughly 4 by 2 meters and an L-shaped baseboard was installed and fixed to the walls. It has the same measurements as the room itself, and the L-sections are of 1.10m depth, so as to alow reasonable radius curves to be achieved. Its dimensions are a compromise, because for modern train modelling a deeper depth would be appreciated.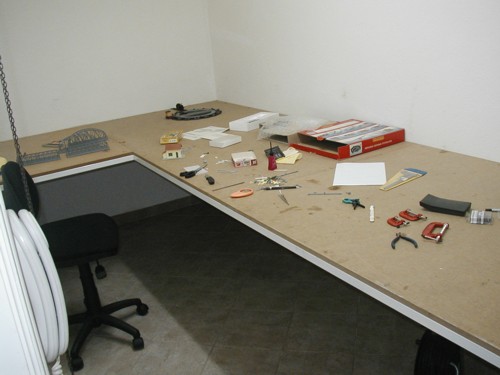 The top of the baseboard
Top of the baseboard shown before the background support application and before the cork track underlay begins. It is solidly fixed to the metalic structure by means of screws, and consists of 19mm medium density particle board.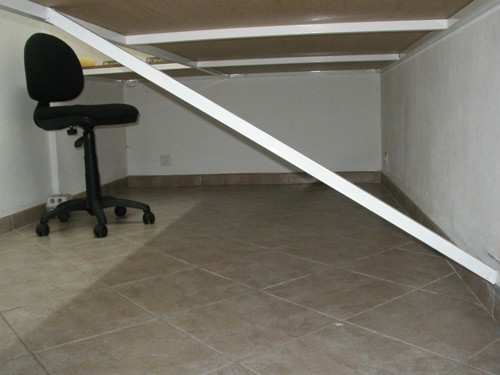 The bottom of the board showing the metalic structure
The metalic structure supporting the baseboard is composed of 35mm section 2mm rectangular tube, welded, corrosion-proofed and painted. The L-shaped structure is mostly self-supporting requiring only an additional oblique brace to the wall, as shown in the picture.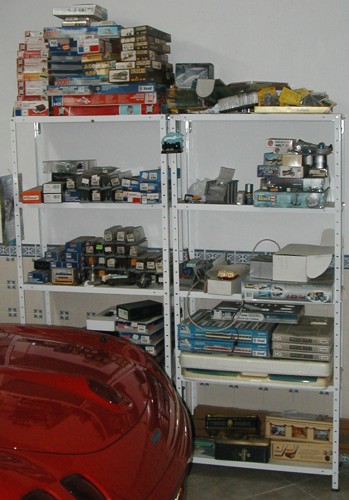 The boxes waiting for the contents to be needed during the layout building.
There is a little of everything here, from scenary materials to rolling stock. This collection is from different manufacturers. Rolling stock ranges from Jouef to Lilliput and Roco items, and most buildings are from Jouef, in spite there are items from Faller, Noch and Revell.